I'm embarrased to say that the last book I finished was the 1st in the Harry Potter series back in college (with the exception of What to Expect While You're Expecting while I was preggo). So when my sister suggested Jennifer Weiner's Little Earthquakes, I was skeptical that I would find the time or be interested enough to read it. To my surprise, I couldn't put it down. I was curious as to why my sister advised me to wait until after I had my baby to read it, but once I finished it I understood why. I'm not implying that this book can only be enjoyed if you're a mommy but the story will definitely evoke deeper emotions if you can relate to the characters on a personal level.
Thanks to this book, I am obsessed with making my own food for H. Chop, steam & puree are the 3 essential steps to creating yummy home-made meals for your baby once the little one is ready for solid food. You can go out and get all the fancy gadgets or just be a little creative. I use my pasta cooker (similar to the one shown below) as a make-shift steamer by putting a little bit of water in a pot then placing a colander on top. I then place the chopped veggie(s) of choice into the colander. Most of the nutrients get tossed away with the cooking water when veggies are boiled so I prefer to steam. Make sure the water level is lower than the colander otherwise you'll be boiling the food which defeats the purpose of steaming. I then use my trusty food processor to puree the food into a consistency that works for H. If you don't have a processor, you can always use a blender (hand-held or standing).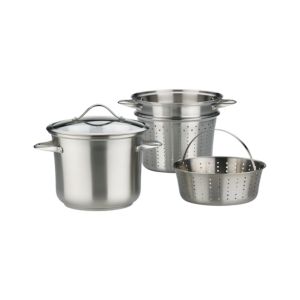 Instead of making a few servings every day, I make H's food in batches then freeze using these little handy containers I found at Buy Buy Baby. You can always use ice cube trays to freeze the food too but these containers hold a bit more at a time. My baby is a bottomless pit so a couple of ice cube trays would probably only last a day or 2.